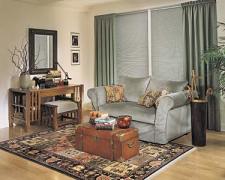 With their classic good looks, long-lasting durability, and versatile function, horizontal blinds are a beautiful, practical window treatment solution. Ideal for just about any home, horizontal window blinds are available in a variety of color and stain options as well as slat widths and materials to suit your style and performance needs. At Window-ology, our selection of window blinds and shades includes a number of options in horizontal and mini blinds, and we're sure to have a look that's right for your home and your needs. Contact us to learn more about the advantages of horizontal blinds for your home or commercial space and get started with your free, in-home consultation today!
Mini Blinds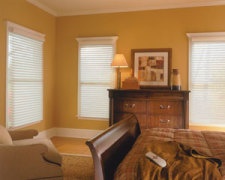 Affordable, durable, and attractive: mini blinds are a practical, cost-effective solution for your windows. With their sturdy construction, mini-blinds provide both privacy and light control, and with our great low prices, you can get great mini-blinds at a price that won't break the bank. Offering top-quality products at an affordable price, Window-ology has mini blinds available in several different designs to complement just about any decor. If you need resilient horizontal blinds built to withstand years of use, our mini-blinds are your answer for attractive appearance and long-lasting performance!
Wood Horizontal Blinds
Wood blinds provide a classic, timeless look for any home. From formal to contemporary decor, wood horizontal blinds complement your style while providing natural beauty and great function. Add privacy, control light, and accent your windows with gorgeous real wood window blinds from Window-ology. We're Pleasanton and environs' source for attractive, practical wooden blinds at unbeatable prices. When you want the beauty of real wood horizontal window blinds at a fabulous price, look no further than Window-ology.
One of the most popular window treatments on the market today, horizontal wood blinds offer a traditional look that many homeowners love. And with Window-ology's superior prices, what's not to love about our wood window blinds. Available in white and a range of beautiful wood tone stains, our wooden blinds coordinate with the decor in any room of your home. Perfect for bedrooms and living spaces alike, wood horizontal blinds are available in several slat widths to suit just about any window. Window-ology provides professional in-home consultations and precise measuring services, so your custom wood window blinds are sure to fit perfectly. When you want long-lasting, sturdy, beautiful window treatments for a great price, you can't go wrong with Window-ology. Contact us now for product samples, demonstrations, and more as part of your in-home showroom presentation.
Faux Wood Horizontal Blinds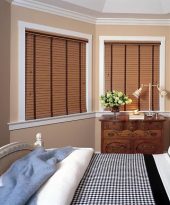 Offering the attractive appearance of real wood blinds, engineered faux wood window blinds provide durable performance and budget-friendly pricing. And with Window-ology's fabulous prices on our full range of faux wood horizontal blinds, they're more affordable than ever! Learn more by calling today to set up your in-home consultation. Our team of window treatment experts is ready to help you select the perfect faux wood window blinds for your home.
Unlike some cheap window blinds, Window-ology's engineered horizontal window blinds are carefully manufactured from a solid, sturdy engineered wood for durable, long-lasting performance. Their unique construction makes them moisture-resistant and prevents cracking as well as warping. In fact, many home decorators recommend an engineered window blind for high-humidity areas such as bathrooms, kitchens, and laundry rooms because of their superior performance.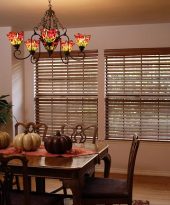 Window-ology offers several options in faux wood horizontal blinds, including a variety of slat widths and range of colors (including white and wood tones). Our composite wood window blinds provide high-quality performance, beautiful appearance, and great prices. Get the best window coverings for less with Window-ology!
Selecting the right window blinds for your home or commercial property can seem like a daunting task, but don't be overwhelmed. Window-ology is here to ensure finding the perfect window blinds is easy and stress-free. Our professionals will listen to your needs and then help you select a horizontal window blind or mini blind that meets your lifestyle, space, and budget needs. Call or e-mail us today for answers to all of your window blind and shade questions–we're here to help.