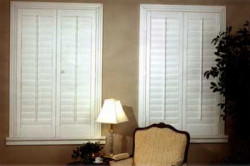 Window-ology is your one-stop shop for complete plantation shutter repair and sales. Providing convenient, expert service, we're here to ensure your interior window shutters are in great working condition for superior performance. Don't let damaged or broken plantation shutters become a frustrating eyesore in your home: If you need plantation shutter repair, give Window-ology a call today!
Do your interior shutters have cracked louvers? Does your window shutter tilter stick? Do your plantation shutters have broken hinges? No matter what your interior window shutter repair needs, Window-ology can probably help. For plantation shutter repairs of all types, our professional installers have the skills to diagnose and mend your window treatments. We provide repairs and maintenance for all engineered and real wood interior shutters installed by Window-ology. Your plantation shutters should beautify both your windows and your home, so if damaged shutters are becoming an eyesore or nuisance, don't wait to contact our plantation shutter repair experts. We can make sure your interior window shutters can bring you attractive, functional performance for years to come.
Our quality window shutters are built for long-lasting, sturdy performance, but accidents do happen. So if your plantation shutters are in need of repair, call now. Our team of interior shutter repair professionals is ready to help! Window-ology is your full-service window shade and shutter sales, installation, and repair outlet in Pleasanton.
And don't forget, we also offer blind repair services. So if you're in need of wood blind repair or other window treatment repairs, we should be able to help. Give us a call or send us an e-mail to learn more about how the Window-ology professionals can get your window treatments back in tip-top shape