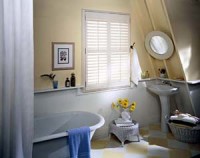 Looking for horizontal blinds for your home? Want a timeless look? Interested in making your window treatments an investment for your home? Then you need to consider plantation shutters from Window-ology. With vinyl, engineered wood alloy, and real wood plantation shutters available, we're sure to have a gorgeous interior window shutter option that meets your budget and your needs. Plantation shutters offer the same privacy and light management features as window blinds, but they also offer so much more! Call Window-ology today to learn more or to get your free estimate!
Wood Plantation Shutters
Beautiful, high-performance, and low maintenance, plantation shutters are a beautiful window treatment solution for your home. Offering classic appearance, energy-efficient benefits, and fabulous practicality, interior window shutters are an elegant alternative to traditional window blinds. Your one-stop shop for plantation shutter sales and installation, Window-ology is your northern California source for quality shutters at an unbelievably low price.
Real wood plantation shutters provide classic beauty for your home. Ideal for contemporary decor and traditional style alike, interior shutters both dress up your windows and coordinate with just about any decorating scheme. On top of their fantastic appearance, wood plantation shutters from Window-ology provide superior energy efficiency. The unique construction of interior shutters and insulating properties of wood mean that your window shutters can help reduce your energy usage by preventing heat gain in summer and heat loss in winter–making them ideal for year-round energy savings. With their attractive looks, performance, and durable construction, wood interior shutters are highly valued by homeowners and home buyers alike. In fact, wood plantation shutters add more value to your home than any other window treatment, making them a lasting investment in your home!
For top-quality window shutters at low prices, Window-ology can't be beat. In fact, we guarantee that our prices for our top-notch interior shutters are the best around! We have a broad selection of interior window shutters, all offered with a number of options and styles from different louver widths to a variety of installation options. We manufacture shutters in a variety of beautiful stains as well as white to coordinate with your home decor. Our team of fabrication and installation professionals will first measure your windows and then build custom plantation shutters to ensure a snug, attractive fit.
Window-ology sells only superior quality interior window shutters. We provide premium interior shutters at great prices, not cheap shutters–we bring you the best plantation shutters for less! Call now to learn more.
Faux Wood Plantation Shutters
A classy alternative to aluminum mini blinds or other horizontal blinds, faux wood plantation shutters bring you all of the beauty and performance of real wood interior shutters but at a reduced price. Energy-efficient, low-maintenance, and even more resilient, engineered wood window shutters from Window-ology are a budget-friendly solution for superior window treatments! Schedule your convenient in-home consultation today to learn more about engineered plantation shutters for your home or office.
Faux wood plantation shutters offer sleek, clean lines perfect for any room and any decorating scheme. Like wood window shutters, they also make your home more energy efficient by blocking and reflecting the extreme temperatures of both winter and summer. Long-lasting, durable, and gorgeous, engineered interior faux wood shutters can increase the resale value of your home. When you need privacy, light-control, energy efficiency, and extreme durability in your window treatments, faux wood plantation shutters from Window-ology have it all.
Our specially engineered faux wood plantation shutters combine wood and polymers to create an attractive, sturdy, durable substitute for real wood. These shutters provide wood-look beauty along with the ability to resist moisture, cracking, and warping–creating an interior shutter with the best in aesthetics and performance! Engineered faux wood plantation shutters from Window-ology are carefully crafted for superior rigidity, strength, and long-term performance for your windows and your home.
Window-ology is your source for the highest-quality engineered interior shutters at the lowest prices. Our faux wood plantation shutters are available in several colors and a variety of louver widths. We also offer both standard and hidden tilt bars, allowing you to customize your engineered plantation shutters to your personal preferences. Custom-built to the exact measurements of your windows, our interior shutters fit perfectly and look great. In fact, Window-ology provides several different configuration options, so your plantation shutters are sure to look great in your home.
We're committed to helping our customers get the very best window shutters for their needs, so call today!
Specialty Shape Plantation Shutters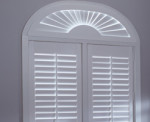 Designed for your home's beautiful accent windows, shaped plantation shutters offer great light control and privacy benefits for these hard-to-fit windows. In addition to standard rectangular shapes, Window-ology has interior window shutters available in a variety of specialty shapes. An great solution for creating a consistent, coordinated look for all of your windows, specialty shape window shutters bring you great performance and beauty. From eyebrow to hexagonal windows, Window-ology has all the plantation shutters you need at a great price.